Last week I spent my Spring Break at First Baptist Daytona Beach's youth camp called "Breakout". This is my 11th year being a counselor at Breakout, and it was my son Seth's last year at camp. He is a senior and will be going to Berry College in Rome, GA in the fall. So, it was with mixed emotions that I departed on Sunday to Camp Anderson in Old Town, Florida.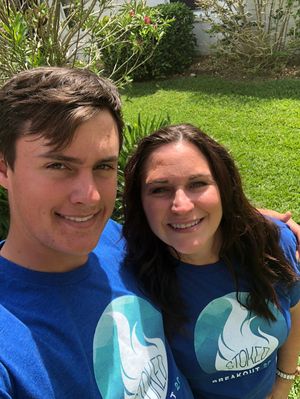 Camp Anderson is a beautiful camp on the Suwanee River ran by a Godly crew that love the Lord and have a passion for winning kids for Jesus. We had 160 students attending camp with us this year. In years past it has been our church students and their friends that they invite to attend. It is a week filled with worship through music and the Word, mixed with a lot of outdoor fun. It is a week where students dig deep in the word and grow in their faith if they already know the Lord, or experience God for the first time if they do not. Breakout has the reputation of being a life-changing experience for all those who attend; both student and adult alike. 
This year was no exception. Lives were changed at Camp Anderson for the Glory of God. However, this year was different than previous years. This year we took 50 teenaged children from foster homes and group homes in the greater Daytona, Deland, and Palm Coast areas with us to camp. The stories of these kids were heartbreaking. I sat with tears in my eyes most days, thinking how fortunate my family and I are and praying that God would give me the word I needed to speak over these children when I was called upon. I learned that even though I felt ill-equipped at times to speak to some of the circumstances of life that these kids found themselves in, all I needed to do was to show the Love of Jesus to these kids. They came to camp hard; beaten down by life. By the end of the week, they had softened and were responding to the Gospel of Jesus that is capable of tearing down walls. I witnessed our First Baptist Students showing the love of Christ to these students. They weren't all talk, they were showing them that they loved them and that God loves them unconditionally. We had our own mission field in our backyard, and our kids stepped up to the plate. They grew their faith by boldly loving others more than themselves. 
I went to camp to share the love of Christ to our students, and in return witnessed the hands and feet of Christ in action through our Youth. Our motto was "Stoked". And our verse was, "But if I say, I will not mention his word or speak anymore in his name, his word is in my heart like a fire, a fire shut up in my bones. I am weary of holding it in; indeed, I cannot." (Jeremiah 20:9). We exemplified this verse this week. It was a very humbling and blessed experience that I, nor Seth will ever forget. We are stoked!