Truly what a blessed time we had this Spring Break. We were blessed to take a cruise and have so much family time and fun along the way. 
The drive to board the boat was filled with excitement. Our first days were filled with food, fun around the boat, naps and relaxation. 
At the first port we had a beach day in Labadee, Haiti. 
At the second port, Ella enjoyed a morning at the pool and made a friend, Samantha, from Seattle while mommy got to read more of 'The Story' – the Bible in chronological order; and Dad and Kaleb enjoyed some activities around the boat. Then we enjoyed a short time off the boat, as a family, exploring the port in Jamaica. Ella bought a dress and Kaleb bought a bright yellow, emoji face, soccer ball.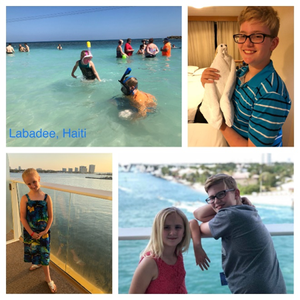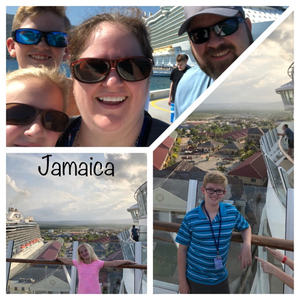 We did our first ever excursion during a cruise when we were at our third port in Cozumel, Mexico: Taking the kids to Mayan ruins, a lighthouse, and then snorkeling – all while Daniel got to drive us from place to place in a Jeep!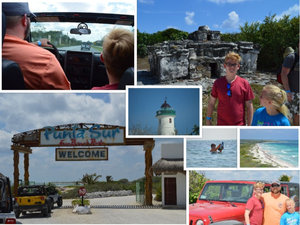 Kaleb's favorite: Snorkeling and the late night movie's on deck. 
Daddy's favorite: Driving a jeep through Mexico. 
Ella's favorite: The pool and the beaches. 
Mom's favorite: Seeing the happiness on my family's faces and the days of true rest (R&R). 
Each night we made sure to go to the main dining room. Why? Why not continue enjoying the pool and eat at the casual restaurant real quick to allow more pool time? This was an intentional choice for family time. Once we ordered and were awaiting dinner – we helped Kaleb with his 4-H speech, we talked, played 20 questions, and we spent many of the nights playing cards like I Doubt It, Go Fish, and more. We laughed and we had great family time.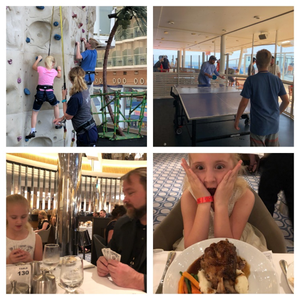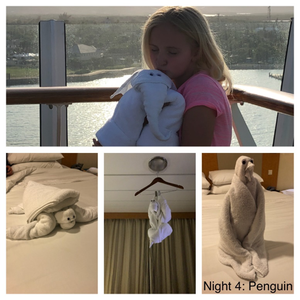 May I encourage you to learn a few games that are easy to play at the dinner table. The laughs and the bonding time that you will experience will be well worth it. (While in one port I googled easy card games for kids and looked for ones that only included 1 discard pile and not a bunch of cards to be on the table; rather in players hands. For example: Kings Corners is a great game my grandmother taught us but does not work at a dinner table – you really need an empty table to play on.) 
The joy that came to my heart as I saw us all laugh and have a great time – honestly, I can't find words to express it – the joy and happiness the memory of those times still brings me – my heart is full. 
I pray that each of us finds ways to bring a more intimate family time to experience with those in our home or when our families come to visit and even just during time alone with our spouse. 
God Bless